<![if !supportEmptyParas]> <![endif]>
Winging It To Vancouver
The phone rang and it was Bill with an offer I could not refuse. He was working in Bellingham, Washington and his job was going to end in about ten days. He had flown to Washington but had ordered a new truck before leaving Louisiana and had it delivered to Bellingham. He did not want to drive back to Louisiana without help.
This is where my offer I could not refuse comes in. Bill said that if I would get to Bellingham he would take care of all expenses from then until we got back to Louisiana. I check on flight schedules to Seattle and have a few days to hang around and begin thinking about the trip. I would miss a lot of scenery I have never seen before if I fly.
It just happens that this 1985 Honda Gold Wing is sitting under my carport and, since it is the fall of the year, a trip to the northwest would be a nice ride, especially if I did not have to drive the motorcycle back. So Iím on the phone to Bill. Bill is a motorcycle rider himself, so it doesnít take much talking for him to see the logic of winging it instead of flying.
Motorcycle riding and camping are two of my favorite activities. Camping would be cheaper than flying, so I put the word out that I am looking for a small tent. Soon I have a tent still in the box. A few loose ends are taken care of, and now all the clothing and camping gear is on the bike. I now have five days to get to Bellingham.
At five in the morning I pull out of the carport looking a lot like the Beverly Hillbillies. Both saddlebags and the trunk are full. Behind the backrest is a sleeping bag. On top of the trunk is the tent, no longer in the box. On the tank is soft luggage and on top of that is a video camera.
A cold front has just passed through and the weather is cool and clear. This bike sounds good in cool weather. Somewhere in Texas the sun finds me pointing the bike northwest. I am so keyed up for this trip that I stop only for gas and skip breakfast. It feels and sounds good to have the big Wing rolling. I hate having to stop. It would be nice if the tanks were even bigger than they are.
The fist day of the trip, five hundred-fifty miles of Texas and the excitement seems to be somewhere ahead of me just over the horizon. The fun of riding seems to stay at least one hundred miles away. I know from experience that as soon as I get past Amarillo I will enjoy the ride. By the time I get to Amarillo I am tired of the hum of the big Wing and I am hungry. I have made this trip through the panhandle of Texas many times and it is just a place that has to be crossed. As soon as I get that chore done it will be fun riding again. A short stop at a truck stop next to the interstate for food and fuel and I am on my way again.
At seven that evening the fist full day of the trip comes to an end. I pull into the KOA (Kampgrounds of America) at Tucumcari, New Mexico. Seventeen dollars for a place to pitch a tent and the use of the showers seems a little steep, but it has been years since I have stayed at KOA so I just pay up and find my spot in the dark.
Now, how does this tent go together? I get it to resemble a tent and then I shower. The wind starts to howl. I donít think the sides of this tent are supposed to have this much slack in them. I have to lie in the middle of the tent to keep from getting slapped by the tent walls. The noise is terrible, but fourteen hours on the road is a strong sedative and I am soon sleeping.
I cross the interstate the next morning and pull into town to fill up and clean the bugs off of the windshield. A short drive down old Route 66 and I canít find a place I would like to stop at for breakfast. I also find that I could have had a motel with a bed for two dollars less than I paid to sleep on the ground at KOA.
Texas is behind me now, and once again I am looking forward to stretching out the Wing on interstate. The skies are clear and the weather is still cool. It feels great. A few miles out of Tucumcari, I see a herd of antelope close to the road at a rest area, so I pull over to video them. Then itís back to cruising speed for the Wing. This is what this big bike was made to do.
I eat up the miles until I come to Four Corners. This is my usual stop when going into southwestern Colorado. I fill the bike, eat breakfast, and then look around for a while. Tourist traps donít interest me much.
As I continue west the vacation begins. I have never been to the parts of the country I am going to from here on. I live in piney woods but love the mountains and desert southwest. The skies are still clear and the horizon is far off. We donít have vistas like this in central Louisiana. I settle down farther into the saddle, set the cruise control, and just roll on for mile after mile. The solitude is nice.
The scenery is more or less the same until I near Flagstaff, Arizona where a mountain rises into view. The scenery has been desert southwest empty for most of the day. The sun is setting, and I am looking for a place to pitch the tent. Just a few miles out of Flagstaff I come to Williams, Arizona. They have a KOA. Once again I am setting up the tent in the dark. There is a woman next to me with her tent already up. I think about just saying hello but get the impression she feels uncomfortable about me being next to her and riding a motorcycle. I slip into the sleeping bag and read for a while. This KOA is at the base of a mountain, and just off in the forest an elk bugles. That is one of the reasons I like to camp. No one ever hears sounds like that in their downtown hotel. The bugle means lights out.
This is the third day of the trip and I am up just before daylight, heading for the Grand Canyon. Itís a good thing I leave early before any other campers are up, or they would wonder what kind of person would pitch a tent that looks like a crumpled rag. The ride before the sun comes up is cold. My first stop at the rim of the canyon is inspiring. The second and third stops look just like the first; so, since I donít have time to go to the bottom I figure it is time to continue the journey.
I have borrowed a small point and shoot camera from one of my daughters so I donít have to lug around a full size 35 mm. I hook the strap through a buttonhole on my shirt and keep it in my shirt pocket so it is handy for shots while I am cruising. My daughter said that she thought there was film in the camera, but still I check in the sight window on the back and see Kodak written with a yellow background. I just start snapping pictures.
I am traveling north on Highway 89 that runs through the Hopi Indian Reservation. Not far from the Canyon I see Native Americans selling silver and turquoise jewelry. I stop and look around. I see a small baby wrapped up and in a traditional carrier like you would see in the movies, so I take a picture. The sights from the road look interesting. I wish I had time to get to know these people better.
Iíve been taking pictures all along the way and take a few more before I arrive at Glen Canyon Dam. This is an impressive structure. I stop and walk around for a few pictures. I think, "Boy, this must be a roll of 36 exposures. I have taken a lot of pictures." I look all over the camera for a counter and canít find one. Something just doesnít seem right with this thing. I open the back to find the camera is empty. It was a Kodak camera and what I saw in the sight window was just their logo! Oh well, no need in crying over spilled milk.
I get back on the bike and look at the gas gauge. It says I need gas soon. I round a few curves from the dam and from the top of a hill I can see a straight highway for 7,000 miles. (Well, it looked like that with a nearly empty tank.) I didnít think I had enough gas to get me across what I could see much less to the next town, wherever that might be.
I start praying and make it to Big Water, Utah. I fill up, grab a snack and some milk, and then stop just out of town to stretch. You sure can get tight when you think you are going to run out of gas in the middle of nowhere.
<![if !vml]>
<![endif]>
I take a picture of the bike. I have film in the camera now. There is a lot to see in this part of Utah but I donít have the time.
This is three and a half days into the trip and the long stretch of road ahead from Big Water to Kanab allows too much time for thinking. I realize I am just over halfway through this trip. I have just as far to go as I have come. If I turn around now I can be back home in the same time I would be arriving in Bellingham if I continue. If I continue I will have a long trip back. It didnít take long for all that excitement to wear off. Iíll never again be able to make this trip as cheap as I have this time. I decide to continue.
What started out as the hum of a smooth running motorcycle has turned into a deafening roar since I have no one to talk to. The only times I say a word are the times I stop for fuel, food, or to camp. My voice sounds strange at those times. To speak seems like I am breaking some code of silence. I feel guilty about speaking.
I am on Highway 89 headed west out of Big Water, but at Kanab the road will turn north. I see I have several choices as to which road I can take to cross over the mountains and pick up Interstate 15. I have wasted a lot of time and decide to cross over on Utah 14 so I can make some time.
<![if !vml]>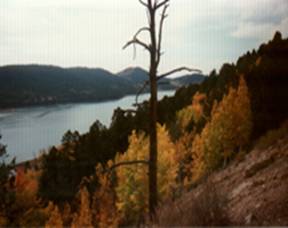 <![endif]>
The aspen trees are in full fall foliage on Highway 14, and this proves to be an excellent motorcycle road - lots of curves, good uphill pulls. The ride up starts out forested on both sides of the road then turns to steep sides where the road was cut through rock. Going down the western side the road opens up to large vistas with quaking aspens dressed in gold. This is why I ride motorcycles. I am glad I didnít turn around.
Itís not long before I am on Interstate 15 and cruising at about 80 MPH. I am almost blown off the road by eighteen-wheelers that blow by me at 90 MPH! I step it up just a tad. This is not the leisurely pace of a mountain road. Welcome to the super slab. That's CB talk for the featureless Interstate Highways.
Itís dark once again as I pull into a campground south of Provo. I see a mule deer doe and fawn standing in the road. At no time during this trip do I find out how this tent is supposed to be set up. (About a year later I see the owner of the tent set it up and marvel at how much room it has. Because it never had that much room for me.) Before I leave the campground I take another picture of the bike and tent.
I wish I had more time for this trip. There is so much to see all around Utah. There is a scenic route near the campground I would like to take, but I have to hit the interstate to make time. I do stop in Salt Lake City to see the Mormon Tabernacle. When I stop for fuel just outside of Salt Lake City I see my first State Trooper for the entire trip from Texas to here. I think I saw 15 before I got out of Louisiana.
I take Interstate 84 through Idaho and into Oregon. This night I stay at Farewell Bend State Park in Oregon. It is cheaper than a KOA and clean. There are several campers in the park. There is shrubbery and trees between each camp spot, so it doesnít seem crowded.
At daylight on day four I am on the road again. This is getting to be a long trip. This part of Interstate 84 follows part of the Lewis and Clark Trail. It has rolling hills and is pleasant to look at. This is relaxing riding.
I turn onto Interstate 82 to head into Washington, before long I am climbing a mountain. At the summit there is a scenic overlook. The Yakima Valley spreads out beyond the horizon. This day there is a forest fire burning somewhere, and a haze contaminates the view. Never the less, it is still spectacular. I drop down the switchbacks into the valley, and the scenery changes. This is definitely farming country.
Iím cruising on the interstate and not paying much attention to the scenery when I notice a large snowcapped mountain off in the haze. I find a scenic overlook and pull over to look at the map. By then Iíve noticed another large snowcapped mountain. The map tells me they are Mount Rainier and Mount Adams. They are impressive even in the haze. I watch them until they are out of view. The scenery from here almost to Seattle is great. I cross over passes I canít pronounce the name of. I donít even try to pronounce the name of the national forest I am in.
The closer I get to Seattle the more traffic there is. I get nervous around traffic after being out in the wide-open spaces of New Mexico, Arizona, and Utah. The interstate goes right under some subdivisions near Seattle. There is lotís of traffic, but the freeways are clean, well maintained, and have plants growing all over that make it all look like a garden. This is a really pretty place.
I am leaving Seattle during afternoon rush hour. Iím wondering if the traffic will be like this all the way to Canada. Itís bumper-to-bumper with both feet on the ground for about an hour. Then it all dwindles out to move freely again.
Bill is staying with another inspector on the job who lives in Bellingham. Richard works the day shift and Bill the night. I arrive when neither is home. It feels strange to let myself into a house on the other side of the country with no one home. It feels really strange to get that bike out from under me knowing I wonít be getting back on it before daylight in the morning.
This is the morning of day six. Bill comes in at just after A. M. and we talk. He informs me that he has a few more days before the job will finish. From the living room window we can see Mt. Baker. Bill tells me that it would be a good day trip I could take while he sleeps.
<![if !vml]>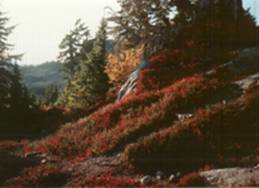 <![endif]>†††††††††† <![if !vml]>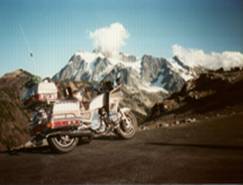 <![endif]>
The ride up is a popular one. There is lots of traffic. The leaves are in full fall colors and people are everywhere with tripods and cameras. It is calendar pretty. This makes me wish I had my full size 35 mm. The glaciers and the shrubs are beautiful. When I return to the house Bill is already back at work.
At 7:00 A. M on day seven Bill comes in. He gives me $40.00 and tells me that he said he would pay my way now that I am here, and that he wants me to see the Olympic Peninsula. He tells me about the route he took and cautions me. He warns that at one junction to not do like he did and go the wrong way. I come up to the same ferry terminal he did and have to turn around just like he did. I take the wrong road knowing which way to go.
I arrive on the Olympic Peninsula at Port Townsend and drop my bike on the ferry while trying to get it off of the center stand. That is embarrassing. I donít waste any time getting away from the ferry.
<![if !vml]>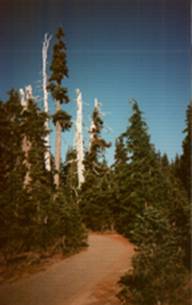 <![endif]>
In the town of Port Angeles I take Hurricane Ridge Road into Olympic National Park. The ride down gives a great view of the Strait of Juan de Fuca. I circled the peninsula on Highway 101 until I come to a road that takes me into the Ho Rain Forest. This is a good trip. The sun is shining brightly outside of the forest, but cars have their lights on while on the forest road. The trees are BIG and their canopies cover the road. I see several Roosevelt elk cross the road right in front of me and disappear into the lush green forest. The green of the forest is unreal.
The trees here arenít like our pine trees in Louisiana. Iíve never seen trees so tall and straight. Some of the power poles that are made from trees look at first like steel poles they are so tall and uniform in height and diameter.
I take so much time on side trips on the Peninsula that I have to get a hotel room for the night. My sleeping bag is spread out on the floor in Bellingham. I am scheduled to arrive back in Bellingham tonight. When I arrive at Bellingham early the next morning Bill is waiting on me. He has finished the job and said that when I did not return last night he worried just like his mother might worry about him being late.
We take an extra day and go to Vancouver, British Columbia. Bill drives and I video from the back of the bike. We see Stanley Park and end the day on top of Grouse Mountain. We take the last tram up as the sun sets. It is a grand finale to see the lights of Vancouver come on as darkness spread over the city. We ride back to Bellingham in the dark and load the bike into a trailer the next day for the long trip back. We head east across Washington through Idaho and into Montana. On the return trip it is nice to see some of the places Bill and I had worked at years before. But it isnít as pretty as it would have been on the Wing. Somewhere in Wyoming we hit rain. This is the first rain for my entire trip. I understand that is quite a feat for a trip to the Pacific Northwest.
How could anyone refuse an offer for a trip that would take them through eight states, past miles of great vistas, along the south rim of the Grand Canyon, around the Olympic Peninsula, on a tour of Vancouver, and all expenses paid for the return trip? Thanks Bill.
Since I have the trip on video, I am able to take the ride now and then from my easy chair. Some day, when I am too old to hold up a bike, I will still be able to ride from my chair in the living room.
<![if !vml]>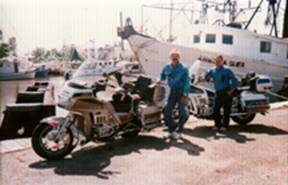 <![endif]>That is Bill on the left and me on the right during a ride in south Louisiana.