The Four Amigos in Colorado
†
In planning for this trip, we started out with only three of us going to Colorado. Allen, Bill, and myself. Instead of riding the motorcycles across Texas in the middle of July, we would put one bike in the truck and the other two on a trailer. Just before our departure date, another rider decided to make the trip. The trailer would only hold two bikes and the truck could not hold two bikes of the size we were riding, so Dewy had to ride his bike all the way to Colorado and back. He would be leaving the group early to meet his wife in south Texas.
Bill was telling one of the guys on his job about our plans to pull the bikes across Texas. The guy asked Bill why we just don't ride the bikes all the way if we are REAL bikers. This guy is a cowboy of sorts, so Bill asked him why cowboys pull their horses all over in trailers instead of riding them where they are going. End of conversation. Point well made.
We made arrangements with Ron at Pegasus Aviation to offload the bikes at the airport in Raton, New Mexico, before we left Louisiana, and to leave the truck there for safekeeping. Bill brought Ron some Cajun food and a coffee mug for letting us park the truck there.
The trip begins at 10:00 P. M when we pull out of Olla, Louisiana. Daybreak finds us at a Grandy's for an all-you-can-eat breakfast. Then it is back on the road for some more of Texas. Noon finds us in the Texas panhandle and eating again.
<![if !vml]><![endif]>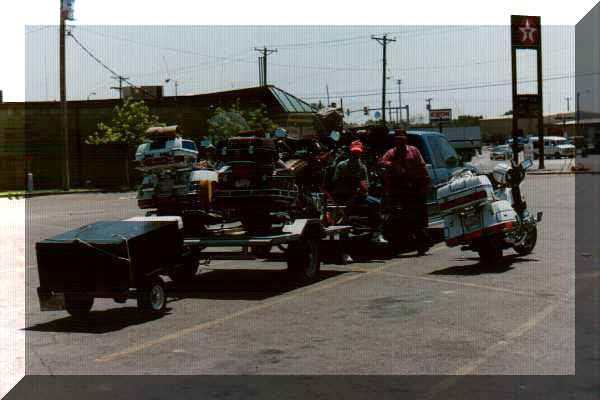 We are camping all the way, so I will be pulling a trailer behind my bike with the tent, stove, and sleeping bags. We will be making coffee in the mornings and eating sandwiches some of the time. We have a truck with a motorcycle in it, a trailer behind the truck with two bikes on it, and a small trailer behind the first trailer. This is quite a load, and the truck is only getting six point nothing miles per gallon.
Either the breakfast didn't agree with someone or the air is BAD in Texas. Sometimes it smells like a feedlot when none is near. Maybe it will pass. This is going to be a LONG trip.
About three hours before sunset we pull into the airport at Raton. We unload the bikes and are anxious to feel them leaning into curves and humming over mountains.
I have our itinerary all planned out and we were to spend our first night in the tent on a lake just out of Stonewall, Colorado. Too many stops in Texas caused us to be a little behind schedule, so we stay in a campground on THE VERY TOP of Raton Pass.
The campground has just been renovated, so everything is freshly painted and clean. There are two motor homes in the campground with us, but we donít see anyone in them.
Excitement is high as we set up the tent for our first night out. Bill grabs the video camera and films while we put the tent up. We have just eaten a good steak in Raton and are ready to shower after a long night on the road, and get a good nights sleep.
I see a dark cloud in the distance as I go to the shower and hope it doesn't come our way. When I finish showering it is raining hard. Allen and Dewy have already finished showering and have returned to the tent. I wait for it to slacken up for a while but it doesn't seem like it is going to, so I decide to make a run for it to see how the others are doing. When I enter the tent with my flashlight, Allen is standing in the middle of it with all our clothes piled up around him waist high. Dewy is keeping an eye on the water dripping from all the seams in the tent. It looks like Niagara Falls inside the tent.
Allen says, "This thing is leaking." I assure him that after the seams soaked up enough water, the threads will swell, and the leaking would stop. Sure enough, after just a little while, as we watch a seam, the water begins to slow to a drip. About that time Dewy asks, "What are we going to do about this?" I shine the light where he is looking to find a two-inch diameter spout of water shooting up through the tent floor, about six inches high, I say, "We abandon ship! Grab the clothes and run for the shower room."
We spend the night sleeping soundly and dry on the floor of the shower room. Allen, Dewy, and myself are lined up in front of the shower stalls; Bill is near the washers and dryers. During the night I wake up to hear a big truck going down Raton Pass with his Jake brake on. Jake brakes make a loud noise. I think while I listen to it, "You don't hear a Jake brake make noise in Louisiana for that long because we don't have hills that are as long as they do here." The noise stops for a second then starts again. I think, "That is kind of odd," then figure he must have reached a level spot, let off the brake for a while, then used it again as he went down another part of the pass. Then the same thing happens again; it stops for a second then starts again. "Now that is odd." As I listen closer it sounds kind of like that Jake brake might be in this shower room with us. I grab my flashlight and shine it around to find that it is Dewy snoring. I can't believe my ears! He snores just like a Jake brake, and that is loud. This is going to be a LONG trip!
We are up before daylight, and I go out to the bikes to get the coffee pot and stove out of the trailer to make a pot of good Louisiana coffee. When I get to where the tent should be, it was gone. I can't believe someone would steal the tent during the night with all that rain. I grab the stove and coffee pot, and then hurry back to tell everyone the tent is gone. They all grab flashlights and go out in the dark to take a look. Sure enough, it is gone. Our clothes that we had left inside the tent are dumped out on the ground. I shine the light down the mountain to find the tent piled up in brush. It is too dark to do anything, so we all go back to the shower and drink coffee until the sun comes up. This is going to be a LONG trip!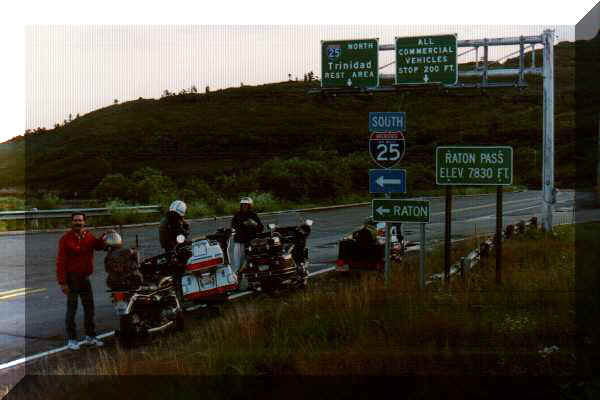 †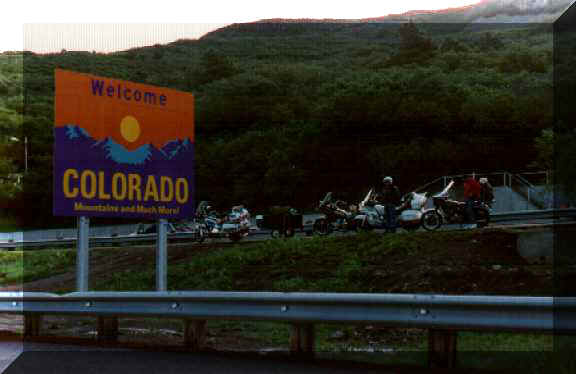 When the sun comes up it doesn't take long to gather our stuff, and we are on our way. We stop a few hundred yards after starting to take pictures of the sign welcoming us to Colorado. Dewy stops where his foot lands in a hole and he and the bike go down. Is Colorado ready for us?
This morning we stop at Stonewall to eat breakfast. This is a good breakfast. I don't know if it is the food, the atmosphere, or both. Hummingbird feeders are hanging outside the windows and are swarming with many colorful hummingbirds. As we are paying for our meals, Bill reads an article posted on the wall that tells about a black bear dragging a camper out of his tent just a few nights ago at the same lake we had planned on staying at. Maybe the storm on Raton Pass wasn't that bad after all.
<![if !vml]><![endif]>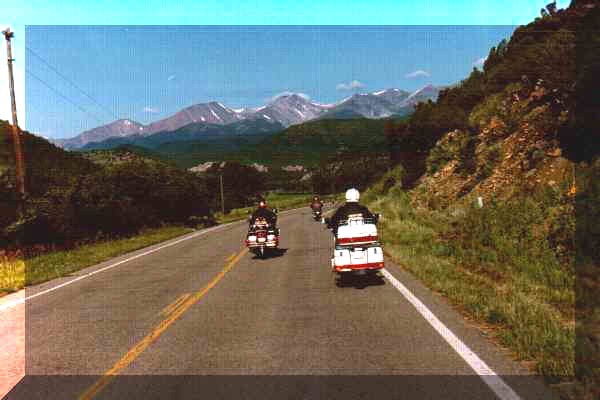 After crossing Cucharas Pass, we are greeted with a spectacular view of the Sangre De Cristo Range. Even though it is July, there are many patches of snow clinging to the mountains.
We travel Highway 12 to Highway 180, where we turn west towards Pagosa Springs. Before we reach Pagosa Springs, we climb Wolf Creek Pass at 10,850 feet. It is raining, but it is just a light shower. I would like to have visited Great Sand Dunes National Monument. We passed it just a few miles back, but time would not allow it.
We stop in Pagosa Springs for a hamburger and pictures of the hot spring in town. I don't remember the name of the place we ate at, but it is on the river that flows through town, and is a great place to eat and relax while listening to the river.
Just out of town, Highway 180 crosses the tip of an Indian reservation that has a campground by a private pond. We set up the tent and find that we have left one section of pole for the tent on top of Raton Pass. Bill fits a stick into the place the pole should be and the stick gets carried around Colorado with us as part of our gear.
<![if !vml]><![endif]>
Today is the third day of our trip. We start it with a hearty breakfast and a tour of the Anasazi Indian ruins at Chimney Rock. It is interesting to see how they once lived on such a high hill. After the tour we head for Durango.
At Durango we take Highway 550 towards Silverton. This, to me, is the most awesome ride in Colorado. You can make a circle route by taking Highways 550, 60, 145, and 160, for the grandest tour in Colorado. In this corner of the state you are not far from the cliff dwellings at Mesa Verde. The cliff dwellings are something you have to see to believe. I can't imagine raising children in such precarious places.
<![if !vml]><![endif]>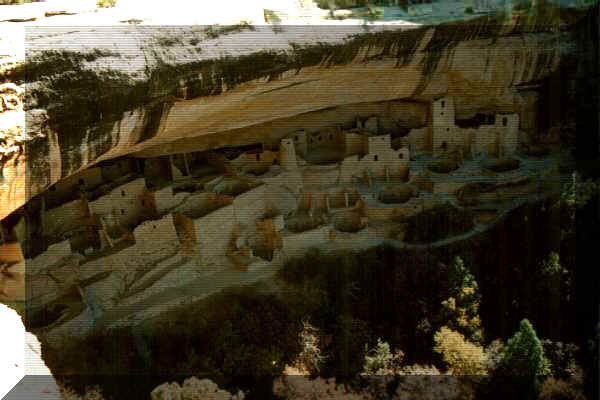 (We did not visit the cliff dwellings on this trip. This is a picture from a trip I took alone one year.)
From Purgatory to Silverton we stop often for pictures. At one pullover I pull off the highway for pictures and catch Bill unaware. He makes a fast pullover into gravel and goes sliding on his side like a baseball player sliding into home plate. He gives us all a scare because he is heading right for a drop off. When you are sliding on a motorcycle towards a drop off, it seems two thousand feet straight down. It is probably only five feet, but we were all shook up.
We climb Red Mountain pass at 11,008 feet, then drop down into Silverton and cruise downtown where we park the bikes and walk around. After a walk around town we drive a little ways out of town for pictures. After taking pictures from the top of a hill, I sprain my right ankle very bad on the way down. I try to soak it in a nearby stream, but the water is too cold. If it would have been my left ankle that would have been the end of my trip. You need the left leg to lift the bike off the side stand.
Before we left on this trip, Allen came by my house one day with a motorcycle magazine. He showed me a picture of four people at a fence with their bikes parked nearby while they looked into town. On the far side of town was a waterfall. Allen said, "I want to go right there." In every other picture in the article they told where the picture was taken, but not in this one. I had never seen that place before but the mountains seemed familiar, so I told him we would find that exact place.
<![if !vml]><![endif]>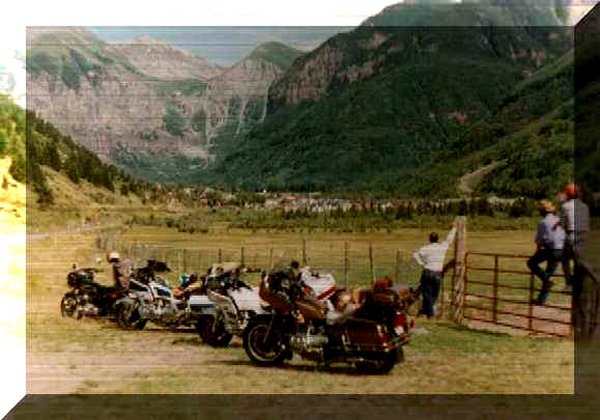 We find the place the picture was taken at as we pulled into Telluride. We stop and set up just like the people in the magazine and take a picture of ourselves.
We are now looking for a place to camp tonight near a river right outside of Telluride. We all drive past a guy sitting on the trunk of his car sucking on pocket rockets. Allen is a little ways behind us, and when he gets right in front of the space cadet, he dumps his bike. Allen and the bike land belly up. The space cadet says, "Like wow! Do you need some help?" No, the bike is just resting. That's two bikes dumped in one day. We camp on the banks of a river. This is a beautiful spot.
The next morning my ankle is really swollen and hurting. I ask one of the others to drive my bike out from where we are camping because the ground is really rough, and the trailer makes it hard to drive without putting a foot down now and then. The road is about one hundred yards away.
I get on Allen's bike and ride out to the road and wait on the others. I seem to wait a long time, but they eventually pull out on the road. I get on my bike, and as we drive, I notice my mirror is out of adjustment. I think my fellow amigos must have dumped my bike and just didn't say anything about it. When we stop I ask them if that happened. They say they did drop it and could not get the bike back upright until after they disconnected the trailer. The trailer had the bike pinned down in such a way that three grown men could not lift it upright.
Bill has been riding a 1972 Honda 750. We have been trying to get him on one of these Gold Wings so he will be hooked on a big bike. When we stop for fuel today, Allen talks Bill into riding his bike for a while. We all get spread out on the highway to Montrose, then regroup in town for breakfast. Bill tells us a story that makes chills run up our spines. He was cruising up the highway at about seventy when a cattle truck pulled out in front of him. He locked the brakes on the big bike and began sliding sideways like he would go under the trailer of the cattle rig. Just before he reached the point of no return, the bike straightened up and he was able to steer around the truck and trailer. That was a close call. You always have to watch for the other guy, and especially on a motorcycle.
Just out of Montrose we tour Black Canyon of the Gunnison National Monument. It is spectacular. The sides of the canyon are steep and close together. The Gunnison River is green and white as it flows through the canyon.
From Montrose we drive on Highway 50 past Blue Mesa Reservoir, through the town of Gunnison, on to Poncha Springs where we turn north on Highway 288 to Leadville.
At Leadville we stop at The Golden Burro to eat. I have eaten here before and suggest the Golden Burritos. Dewy has never eaten burritos and asks what they are made of. I tell him they are made from golden burros they keep out back.
We cover a lot of miles today and pull off of Interstate 70 to camp for the night. I arrived a few minutes ahead of the others, and wait for them in the parking lot so we can all go in together. Bill pulls up first and has ten-inch long weeds sticking up from the front forks on his bike. I know he didn't pick those up on the interstate; there is far too much traffic for grass to grow out there. Allen pulls up laughing and says Bill tried to straighten out the off ramp and did a little dirt riding. That's not easy to do on a street bike.
That night the burritos must not have agreed with anyone, because I'm worried about the tent rising during the night like a hot air balloon. We unzip the windows to let all the hot air out.
This is the fifth day out. Dewy has to leave today. Allen has decided to head back with him. The temperature is in the thirties as they pull out for Texas and one hundred degree heat.
After going through Eisenhower Tunnel, Bill and I turn north on Highway 40 and ride towards Rocky Mountain National Park. We stop at Winter Park Ski Area and ride the lift up. Then we take the alpine slide down. I could spend a day doing this.
I've been to Rocky Mountain National Park several times before, but it still takes my breath away to see the views. I would love to hike some of it's trails some day.
We stop at a state park on Highway 72 south out of Estes Park. It is very clean. We grill steaks and watch the sun set. When morning comes we wash our clothes before hitting the road again.
Outside of Idaho Springs we take a highway that takes us to the top of Mount Evans. It claims to be the highest road in the U. S. and is blacktop all the way to the top. Pikes Peak Road is only paved about halfway. At 14,264 feet, Mount Evans is higher than Pikes Peak, which is 14,110 feet. I think the view from here is better than Pikes Peak.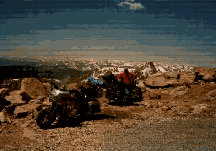 †<![if !vml]><![endif]>
From Mount Evans we take Highway 40 to Highway 285 down to Fairplay. At Fairplay we take Highway 9 to Hartsel, then Highway 24 towards Colorado Springs. The scenery down Ute Pass is awesome. We camp at Lone Duck Campground. I think Lame Duck would be a more suitable name.
We drop down into Colorado Springs to eat at Fargo's Pizza Parlor. This place is unlike any pizza place you have ever seen. There are mounted big game heads all around the walls. There is an extensive Colt pistol collection in a showcase. There is a large assortment of ladiesí hairpins and combs. They also have nickelodeons, except they cost a quarter now. They play fairly modern songs in the old barroom style. There is an old wooden cigar store Indian. There are two large, fancy chandeliers. The table has one large silver leg with all sorts of fancy designs in it. Oh, the pizza is great.
After eating, Bill and I drive towards Seven Falls, but there is a long line of cars waiting to get in. Someone directing traffic tells us there is a private party going on, so we drive up Gold Camp Road to view the city from above at night. The lights of Colorado Springs seem to stretch out to the horizon.
The following morning Bill and I pack up the gear knowing this will be our last day on the bikes. We have a lot of ground to cover, but decide against taking the interstate. We stick to the back roads until just before Raton Pass, where we pick up Interstate 25 into Raton.
In all, we have put about two thousand miles on the bikes. That is not counting the nineteen hundred from Olla, Louisiana to Raton, New Mexico on the truck. Bill and I have worked in Colorado before, and I lived in Colorado Springs for five years, but you don't get to know Colorado from a car like you do from a bike and camping. This is one trip I have made before on a motorcycle and will do again, if the Lord is willing.